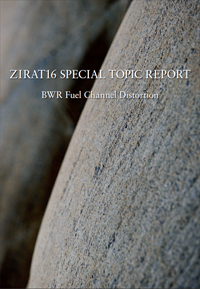 BWR Fuel Channel Distortion
(ZIRAT16/IZNA11 STR)
In the past ten years approximately half of the 35 BWRs in the United States have reported Control Blade interference due to channel distortion, primarily channel bow. Channels fabricated by all vendors have been affected. This Report is primarily focused on channel distortion; that is, change of shape during in-reactor service: length, bow, bulge and twist. This Report addresses a broad range of channel features which can contribute to normal and problematic performance. In particular, the so-called "shadow corrosioninduced" channel bow phenomena are analyzed.